This declaration of intention was signed to solidify the intent of the signatory companies and organisations to form the Information Technology for Public Transport Initiative (ITxPT).
The ITxPT Initiative, supported by UITP, has the objective to support the evolution, maintenance, dissemination, adoption and deployment of the ITxPT platform. The ITxPT Initiative is open to ALL Public Transport stakeholders.
Built on the IT specifications developed in the European Bus System of the Future (EBSF) project funded by the European Commission, ITxPT is an IT platform reproducing on board IT systems with associated back-offices. It complements the technical specifications by including a test bench and tools for monitoring and testing solutions, multi-suppliers interoperable environment. The ITxPT platform is the unique integrated European IT platform to specify, test, qualify and showcase IT solutions.
The signatory companies and organisations agreed to cooperate on the development of the ITxPT.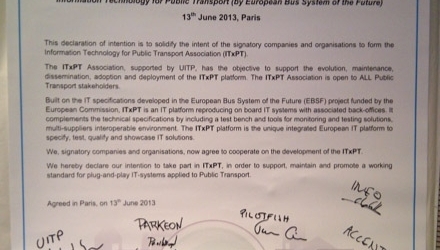 They declared our intention to take part in ITxPT, in order to support, maintain and promote a working standard for plug‐and‐play IT‐systems applied to Public Transport.
For further information, please contact info@itxpt.org