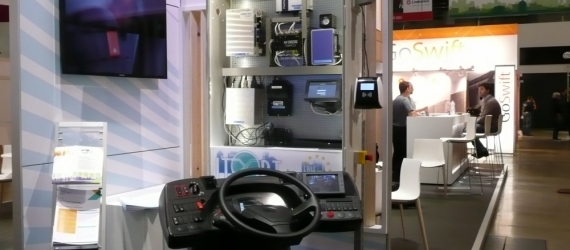 The ITxPT integrated platform built in the frame of the European Bus System of the Future project (EBSF) was exhibited at the European Commission stand during the 10th ITS European Congress, in Helsinki, in June 2014.
Following the promising results reached by EBSF on IT systems standardization for public transport, the project partners and other public transport stakeholders have decided to continue cooperating on the deployment of standards for plug-and-play IT systems applied to public transport.
Considering that Public Transport has heterogeneous organizations in different countries, the organisation of IT architectures and data communication is highly complex. ITxPT answers to this great challenge by federating all the public transport stakeholders around the need to implement a system which is interoperable within the IT architecture itself and among different public transport stakeholders operating on the same territory.
ITxPT aims to enrich and encourage the deployment of IT standards* which integrate public transport data and share information sent by all stakeholders involved in the bus journey.
The Intelligent, Innovative, Integrated Bus Systems project (3iBS) complements the work led by ITxPT by conceiving the guidelines supporting PTO, PTA and industry suppliers in deploying the IT plug-and-play standard in buses fleet.
For more information please visit the 10th ITS European Congress Helsinki website or contact Ms. Pauline Bruge at pauline.bruge@uitp.org.
*The parts 7/8/9 of EN13149, SIRI and NeTEx standards evolve regularly thanks to the work of the CEN/CENELEC standardization group "CEN TC278WG3", that is fed by the tests and technical contributions of the ITxPT Members.