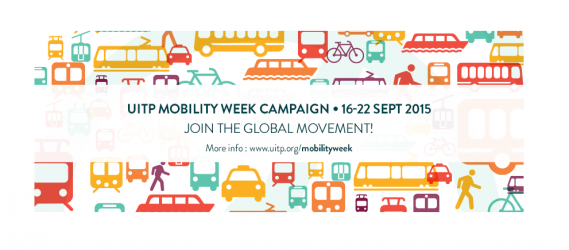 Following in the footsteps of the hugely successful "Grow with Public Transport" campaign in 2013 you maybe took part in, we are pleased to invite you to participate in a global initiative UITP MOBILITY WEEK CAMPAIGN (16-22 September 2015).
The action aims to join forces of UITP Members and Friends, showing our dedication to the development of public transport sector. By speaking with one voice, we can raise the awareness of the importance of public transport in the changing urban mobility landscape. UITP MOBILITY WEEK CAMPAIGN supports the European Mobility Week, that's why cooperation with Partners and Supporters of the EU-funded project ZeEUS is particularly important.
In order to take part in this global movement, you can download the free Toolkit from this page. Then, simply display as many banners as possible on your different digital communications channels during the Mobility Week from 16 to 22 September 2015.
More details about the action are available here. Together, let's turn the campaign into a global movement!
In case of questions, please contact marta.goralczyk@uitp.org.