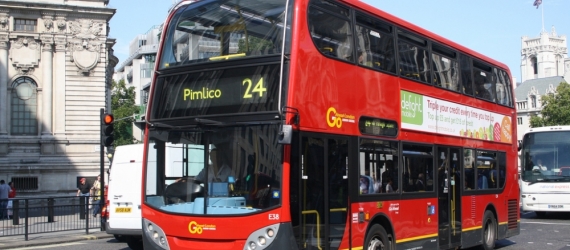 Deploying the ITxPT architecture on-board vehicles is undeniably the vision shared by public transport operators (PTOs), authorities (PTAs), vehicle manufacturers and ITS suppliers. This is the main conclusion coming from the first ITxPT Workshop which took place in Paris on 28th October.
The assessment of the current context is unanimous for the 28 participants from the 20 organisations who were around the table: installing, maintaining and upgrading ITS modules on board vehicles is demanding and time-consuming. Multi-connectors, wiring issues, lack of a dedicated space on-board, difficulty to access modules for maintenance and redundancies of services (antennas, screens…) are increasing costs while hampering the effectiveness of the public transport system.
COST-EFFECTIVE, REUSABLE, SCALABLE, MODULARISED AND SUSTAINABLE IT ARCHITECTURE
With the EN13149 standard, the European standardisation body CEN/CENELEC has formulated an answer to better manage the hardware interfaces, communication protocols and services. Embracing such standard allows to implement an IT architecture which is cost-effective, reusable, scalable, modularised and sustainable.
However, such standard can only prove effective if a common understanding for implementation is adopted thanks to detailed guidelines, taking into account different local contexts in which the public transport systems operates. And this is the role of the ITxPT Association.
Set up to ensure a coherent deployment of standardised IT architecture, the ITxPT Association provides a series of services to accompany the stakeholders along the standard's implementation journey:
Support PTAs and PTOs in the provisioning of compliant plug and play modules
Support the dynamic of IT standards evolution by sharing common technical specifications at European level, align and enrich the standard with implementation experiences from the field
Rely on a reference technical platform to qualify IT modules: test and validation of compliant IT modules and architectures under real operational conditions
Share experience and best practices
ENSURING TAKE UP AND OVERCOMING THE CHICKEN-AND-EGG DILEMMA
Supporting public transport stakeholders in this transition means to overcome the typical push and pull factors from the industry on one side and the PTOs/PTAs on the other side. While the industry would tend to wait for their customers to formulate clear requests for implementing a standardised IT architecture, PTOs and PTAs have to be fully convinced about the benefits of the solution before integrating clear requirements in their tenders.
ITxPT believes that cooperation of all the stakeholders through local projects can provide good use cases to gradually unlock the situation. Transport for London is one of the first use cases to benefit from the ITxPT expertise and support in a step-by-step approach.
TRANSPORT FOR LONDON ANTICIPATES TO REDUCE INSTALLATION TIME BY 40% AND INSTALLATION FACILITY COSTS BY £350.000
With its long-term vision to have all its vehicles and on-board equipment compliant with the ITxPT architecture by 2020, London Buses has mandated bus manufacturers to provide buses' design enabling cabling to be easily fitted or removed and to be easily run when implementing a distributed Internet Protocol (IP) network. Such approach promises great savings for London Buses with the installation time forecasted to be reduced by 40% and installation facility costs to be reduced by approximately £350.000.
ITXPT CAN SUPPORT YOU!
ITxPT plans to keep up its support to public transport operators and authorities in rationalising the installation and maintenance of their on-board equipment. On one side, the Association is triggering projects and helping PTOs and PTAs to clearly define their needs during the tender preparation phase, which can be achieved through the analysis of their current architecture under real operational conditions (via the ITxPT integrated platform). Moreover, all the roll-out phases can benefit from a dedicated support from the ITxPT experts who accompany the stakeholders all along the process. On the other side, ITxPT is strongly encouraging both vehicle manufacturers and ITS supply industry to raise awareness about their products' compliance through the testing and validation of their modules and vehicles under real operational conditions and with the integration of their compliant products in their catalogue.
For more information, you can require an access to our documentation centre or contact pauline.bruge@uitp.org.