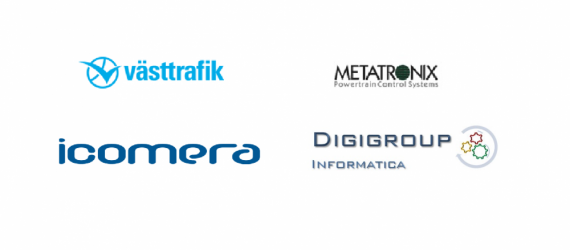 With new Members on board and an upgraded membership of Västtrafik, the ITxPT Association looks optimistically towards the new year. With the beginning of the 2016, three new Associated Members join the Association: Icomera, Metatronix and Digigroup Informatica.
Icomera Icomera is the world's leading provider of open Internet connectivity and application platforms for passenger transport and public safety. Its award-winning products are deployed on rail, road and sea, serving millions of Wi-Fi users every week across the globe and providing high-speed access for fleet tracking and mission-critical onboard systems. Icomera is headquartered in Sweden with offices in the United States, United Kingdom and channel partners worldwide.
Metatronix is now part of the Italian Metatron group, after being previously a branch of Digigroup. The company has developed a wide range of products that may satisfy the infomobility needs of the local public transport operators: on-board computers, driver terminals, accessories and networking devices.
Digigroup Informatica is an Italian independent SME, involved in the development, distribution and maintenance of fleet management software. The company focuses especially on the "after-market" segment of the local public transport sector. After the acquisition of a company branch of Digigroup (now renamed Metatronix, see above), Digigroup Informatica took over some existing maintenance contracts, and acquired an «open» licence to independently continue with the development of the fleet management software.
The ITxPT Association would like to give a very warm welcome to the new Members. Additionally, ITxPT is happy to announce that also the current Members see the growing potential of the Association. Västtrafik, the second largest public transport company in Sweden, is responsible for the public transport in all of Västra Götaland. Västtrafik has upgraded its membership and enters 2016 as Principal ITxPT member. Among other benefits, Västtrafik gains access to the ITxPT Platform, to the technical documentation centre, as well as technical consulting. Discover all benefits here.
You can see all the ITxPT Members here.
Interested in becoming ITxPT Member?
Fill in the questionnaire on this page or contact Pauline Bruge: pauline.bruge@uitp.org.