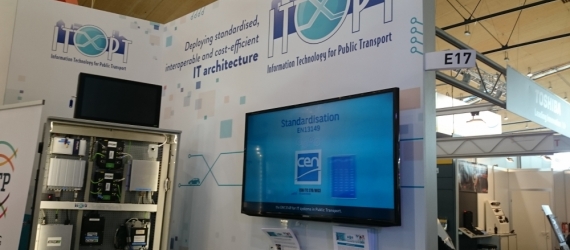 Are you planning to renew your buses' on-board IT systems? We recommend adopting an open architecture based on the EN13149 European standard and on the guidelines developed by the ITxPT Association.
This standard aims to make the deployment of on-board digital systems cost-effective, reusable and sustainable. It covers the different aspects of the implementation of on-board IT-systems – basic principles, general typology and terminology, specifications on the hardware interfaces (cables, connectors…), possible services – making it especially useful for tendering.
Thanks to this, Transport for London anticipates reducing installation times by 40% and installation facility costs by £350,000.
In the framework of ITxPT, UITP is working to adapt the EN13149 standard and corresponding guidelines to vehicles other than buses, starting with trams.
For more information, join us at IT-TRANS 2016 (1-3 March, Karlsruhe, Germany) and do not miss the Innovation Conference session on 2 March, 11:00 – 12:30: 'Smarter and safer: Intermodal Transport Control Systems', where ITxPT will present its 'Paradigm Shift in Public Transport ITS'.
You can also meet the ITxPT Association at the UITP Stand (E17). Please note that an ITxPT guided tour will be organised on 2 March at 15:30, starting on the UITP stand.
For more information, please contact info@itxpt.org