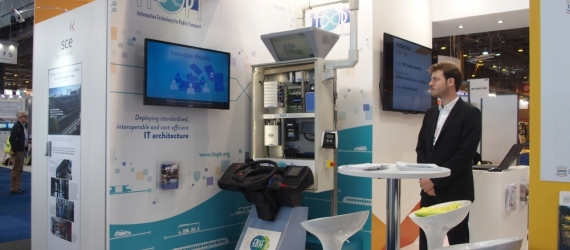 Following on the success of the 3rd ITxPT Workshop involving 40 participants, the Transports Publics 2016 kept building on this momentum of readiness for larger implementation of IT standards.
A significant number of visitors confirmed the increasing importance and notoriety of the association: many came to visit the testbench, and requested additional information linked to their ongoing tenders and projects dealing with IT architecture.
All insisted on the interest to share experience and to be supported on IT standards implementation.
Thursday 16th June, on the last day of the exhibit, a dedicated European session gathered ITxPT members representing Public Transport Operators, Vehicle Manufacturers, ITS Industry and interested visitors around this relevant topic: "Information technology for public transport: driving ITS standardization in Europe".
The 2016 edition of Transports Publics, also known as the biennial European Mobility Exhibition, gathered last week 10,000 participants, over 250 international exhibitors. All the key players in public transport and sustainable mobility came together over three days in Paris to discuss the latest innovations for urban, interurban and regional transport, as well as green mode transport.
ITxPT specifications and guidelines are available at the ITxPT Documentation Center, you can request public access here. Further advantages, including access to ITxPT testbench and registration to working groups, are offered to ITxPT members only, according to their membership level. Discover all benefits and apply for membership here.