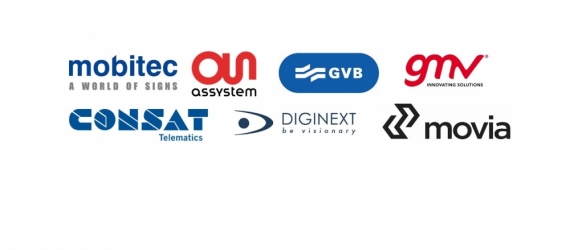 In 2017, the ITxPT Association has welcomed new Members: MOBITEC, ASSYSTEM, GVB, CONSAT Telematics AB, DIGINEXT and MOVIA.
On the Strategic level:
MOBITEC is a global leader in the design and manufacture of system technology for mobile passenger information on buses and rail transport. They provide devices such as board computers, next stop and destination signs, infotainment screens and back-office software for content and management, remote update and diagnostic. Mobitec joins ITxPT Association to actively contribute with its experience and know-how within public transport information system. Mobitec wants to be a part of creating and deploying future IT architecture in public transport to ensure passengers is provided with needed information when travelling from door to door.
On the Principal level:
ASSYSTEM is an international Engineering and Innovation Consultancy with a presence in 20 countries and nearly 12,000 employees. Assystem is a key partner for the world's largest industrial groups. Designing and developing the products and services of tomorrow, building and ensuring the optimum use of their investments throughout the life cycle, coordinating and executing the realization of their projects and infrastructure: Assystem's engineering teams make the difference and instil trust. Cleaner energy, lighter aircraft, and electric modes of transport for the masses – these are a few of the challenges Assystem's customers' face on a daily basis. Assystem's employees are committed to excellence and address these challenges with their know-how, methodologies and conviction. Thanks to its strong engineering capabilities, Assystem has also developed its own range of automatic people counting solutions for public transportation. ITxPT will be a great opportunity to exchange with the main stakeholders of public transportation and work on innovative projects who will benefits to the customers.
GVB is the municipal public transport operator for Amsterdam, the capital of the Netherlands, operating metro, tram, bus and ferry services in the Amsterdam Metropolitan Area. GVB strongly believes in the ITxPT architecture to reduce costs and complexity of lifecyclemanagement and to support nowadays demands for innovation of onboard information systems.
On the Associated level:
CONSAT Telematics AB is the leading supplier of ITS solutions in the Nordic region. Consat delivers ITS solutions for authorities as well as operators. With one vehicle computer on-board the client gets CAD/AVL, time table adherence, a gateway, RTPI, passenger counting, driver coaching, next stop announcement, connecting lines and headway. The system supports at-stop displays with text to speech, GTFS-RT, web based passenger information tools and an advertising platform. The system has a plug-in based user interface with tailor made behaviour for traffic management, passenger information, fault code, driving behaviour and much more. Consat has started during the last 12 months growing their market share in new countries across the globe.
DIGINEXT, a CS Group subsidiary, is a leading provider of cutting edge and reliable Operational systems, Simulation systems for design or testing and Training solutions. The Critical Information System Division of DIGINEXT is in charge of providing innovative information systems to public transport and rail sector. DIGINEXT is today a European leading provider of Traveler Information Systems for multimodal network with important references such as RATP (Paris), RTM (Marseille), Keolis (Lille) or STIB (Brussels). DIGINEXT has developed a world-class double expertise – both technological and functional – of the public transport and rail sector through the implementation of multiple projects ranging from Command and Control Centers to Traveler Information Systems.
With over 25 years expertise in its own HW&SW development and engineering, GMV is a global leader in deployment and commission of all kind of ITS (Fleet Management, AFCS, PIS, CCTV, Ecodriving,…) for PT such as bus, BRT, LRT, tram, rail or ferries. Over 300 PT Operators and Authorities in more than 40 countries across six continents rely on GMV to implement innovative solutions that help them outsmart the increasing challenges faced by the Transport Industry.
MOVIA is the public transport agency that is responsible for buses and certain local railways in Copenhagen and the part of Denmark east of the Great Belt, covering the regions Sjælland and Hovedstaden, except for Bornholm.
Do you also wish to become ITxPT Member? On this page you will find the subscription form.