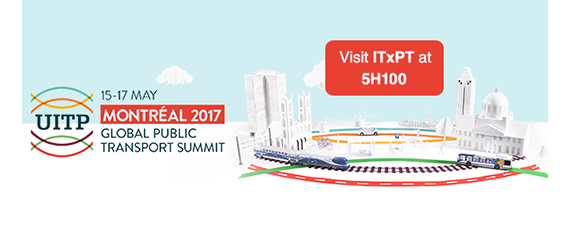 ITxPT will be present at the UITP Summit taking place from 15 to 17 May in Montréal, Canada. At the stand no. 5H100, you will be able to meet ITxPT Secretary General, Anders Selling, and Exploitation Manager, Emmanuel de Verdalle, who will be happy to present you the ITxPT testbench and answer all your questions.
Moreover, many ITxPT Members are coming to Montréal to exhibit, including ALSTOM, CONSAT, DILAX, ENGIE, GIRO, GMV, ICOMERA, INIT, KEOLIS, PARKEON, SCANIA, THALES, TRANSDEV, TRAPEZE and VOLVO. You can see more details about their exhibited solutions here.
The UITP Summit is a unique biennal event that covers all urban and regional transport modes. It combines a full programme of congress sessions with an exhibition of the latest solutions, innovations and products in public transport and urban mobility.
For more information, you can contact:
·         Anders Selling, anders.selling@itxpt.org, +46 70 23 73 300
·         Emmanuel de Verdalle, emmanuel.de-verdalle@itxpt.org, + 3362 50 35 906