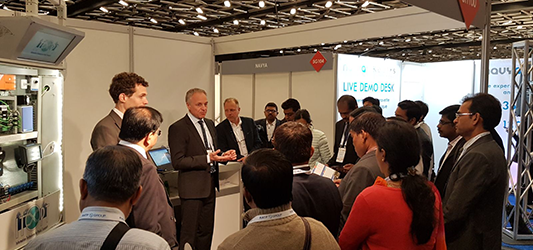 From 15 to 17 June, Montréal hosted the biggest biennial public transport event, UITP 2017 Global Public Transport Summit. With more than 2500 delegates from 84 countries, it was a unique event that covered all urban and regional transport modes. The theme for the 2017 Global Public Transport Summit, 'LEAD the TRANSITion,' reflected the profound and rapid evolution underway in the public transport sector.
On around 30,000m² of exhibition space, 280 exhibitors showcased their products and solutions, including ITxPT. Its stand met with great interest, also from visitors outside Europe. ITxPT hosted Indian and Latin American delegations as both regions are considering to set up test platforms back at home.
Anders Selling, the ITxPT Secretary General, said: "We are happy to see that after several years of activity in Europe, and gaining first non-European member, GIRO, ITxPT continues to raise interest across the globe. It is also motivating as the expectations are high, especially in the view of the upcoming RUTER tender".