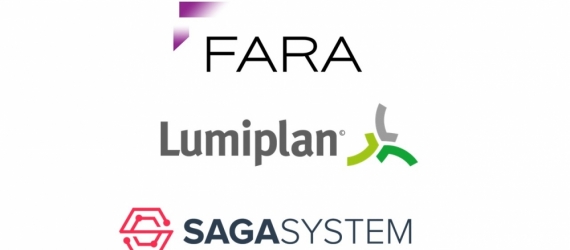 ITxPT welcomes new Members: FARA, Lumiplan and SAGAsystem.
FARA is a Scandinavian IT company specializing in electronic ticketing and travel information for Public Transport, offering cloud-based and customer operated solutions, as well as mobile phone apps for passengers. It delivers ticketing and real-time information systems for fleet and traffic management, passenger information and infotainment. FARA has assisted more than 100 Public Transport operators in Europe by offering their users the benefit of better travel experiences. FARA is an ITxPT Principal Member. Lumiplan is a French group providing innovative solutions to meet today's passenger information needs for Public Transport (LED destination displays, Multimedia LCD TFT screens, next bus stop announcement, smartphone apps…). Servicing more than 4000 clients, Lumiplan is commercially active in more than 20 countries across 5 continents, with offices in France, Italy, India, Singapore and the USA. Lumiplan joined ITxPT as Associated Member.
SAGAsystem is a Norwegian service company in the transportation sector. The company develops fleet management systems, innovative driving behavior analysis tools and provides telematics services based on data accrued from its customer base. One of these platforms is Tenix, a system dedicated to the bus segment, which can be integrated with third party systems using APIs and data adapters. SAGAsystem joined the ITxPT Association as Principal Member.
Do you also wish to become ITxPT Member? Please contact Anders Selling for further information.