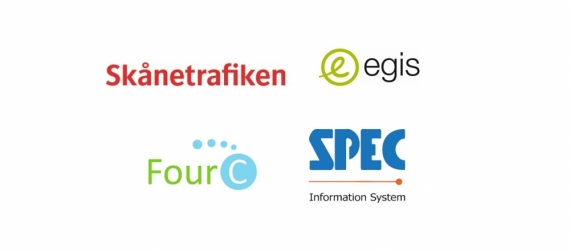 ITxPT welcomes new Associated Members: Skånetrafiken, Egis Rail, FourC and SPEC.
Skånetrafiken
 is a Swedish regional public transportation authority in the Skåne region. Founded in 1999, Skånetrafiken is responsible for planning and development of public transport on city buses in 10 major cities, region buses and trains in Skåne, which are operated by 7 different PTOs. By joining ITxPT, Skånetrafiken hopes to cooperate with leading market actors and other PTAs in developing a standardized IT architecture to keep up with increased business and customer demands. Skånetrafiken is the second Swedish PTA to join ITxPT, following Stockholm County Council (SLL) that joined earlier this year.
Egis Rail is Egis subsidiary in the urban and rail transport fields: metros, trams, heavy rail. It brings together all of the necessary expertise for guided urban transport and rail: systems, automation, rolling stock, safety, equipment, civil engineering, environment, etc. Egis Rail has led numerous successful projects in France and in other parts of the world, from preliminary design of public transport systems through to commissioning, and covering all aspects of testing and handover to clients.
FourC AS is a Norwegian company that provides an infrastructure platform for management of distributed systems with focus on transport. On the platform, FourC and other companies are providing a wide range of innovative services like passenger flow analysis, ticketing, infotainment, announcements, wi-fi, beacons and more. The platform is now being extended with full ITxPT compatibility. FourC is a firm believer in open source, open systems and standardization that prevents vendor lock-in.
SPEC Information System is a French company specialized in innovation for embedded passenger information and automatic vehicle location systems. SPEC aims to provide its customers with the best solution to their needs according to the equipment and vehicles fleet. Nowadays, its knowledge covers 8 product lines: destination signs, embedded PIS, floor PIS, AVL, mobile apps, ticketing, embedded Wifi and video supervision.
Since its foundation in 2015, ITxPT has gathered 50 Members and has seen a dynamic growth in 2017, attesting the increasing interest for the implementation of standards for plug-and-play IT-systems applied to Public Transport.
Do you also wish to become an ITxPT Member? For further information about the different membership levels and relative benefits, please consult the page dedicated  and get in touch with Anders Selling, ITxPT Secretary General, anders.selling@itxpt.org.