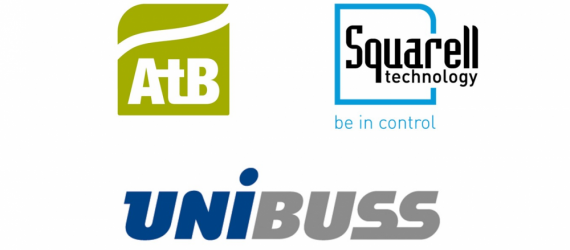 ITxPT welcomes new Members: AtB, Squarell and Unibuss.
AtB, a Norwegian administration company for public transport, was founded in 2010 and is the PTA for the entire Trøndelag region, including Norway's third largest city, Trondheim. It manages bus, boat and ferry services. AtB joined ITxPT as Associated Member to create better services for its customers and contribute to innovation in the sector. AtB expects that by implementing and adhering to the vision presented by ITxPT, it will be able to better face the challenges and opportunities presented by a technological tomorrow.
Squarell Technology is a world-leading independent provider of CANbus and vehicle data solutions. Squarell has almost 15 years of experience in providing hard- and software solutions for the automotive industry. Squarell's dedicated staff wants to help and use its knowledge in advanced engineering projects that concern the improvement of safety, reduction of CO2, predictive maintenance and driver behaviour. Squarell, part of the Buysman Holding Group, has its headquarter in Hillegom, the Netherlands. Squarell joins ITxPT as Associated Members to help further development and to enrich the current CANbus and vehicle data technology in the public transport sector.
Unibuss AS is a Norwegian bus company group that operates in Oslo, Norway. It is a subsidiary of the municipal transportation group Sporveien, and is one of the leading bus companies in Norway. It has two subsidiaries: Unibuss Ekspress AS and Unibuss Tur. As the mobility sector is rapidly changing and expecting new inputs from operators, Unibuss wants to contribute to this development by providing a range of services that will raise the level of travel experiences for the passengers. That is why Unibus joins ITxPT as Associated Member.