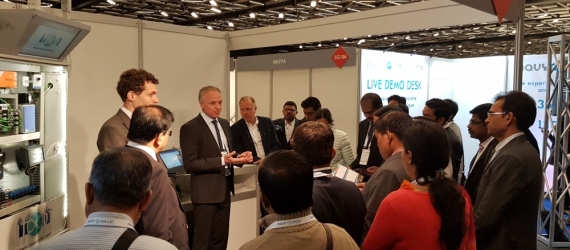 Year 2017 has been remarkable for ITxPT: the Association has grown now to over 50 Members. Approaching the end of the year is a good time to look back to see what has happened. To close this year looking towards the future, we had a cup of coffee with Anders Selling, the ITxPT Secretary General.
2017 has been a very intense year for ITxPT. Can you sum up the more important moments of this year?
Well, there are many of course, but I would say that the release of the ITxPT Technical Specifications 2.0 has been a milestone. Also, the fact that these specifications are included as a requirement in a major public tender (RUTER – ed.) is a confirmation that ITxPT is now a point of reference for the sector.
In your opinion, what was the biggest achievement for ITxPT in 2017?
ITxPT relies on the contribution from its Members and there has been a tremendous work in our Working Groups to deliver the content in the ITxPT 2.0. The growing number of Members is an asset, but it also takes a lot of efforts to agree on the solutions. The positive spirit of cooperation in ITxPT is truly our greatest achievement.
With more and more Members joining ITxPT, how is this going to impact the Association and its role?
Actually, the quick increase of Members confirms ITxPT as the standard specification for IT-systems for public transport. At the same time, with more members our meetings and work shops will require much more management and preparation, and will be more like events. We are slightly growing our organization to manage everything professionally.
Now that the Technical Specifications 2.0 are released and soon the Deployment Guidelines will follow, what are the next steps for ITxPT?
We will pay a lot of attention to supporting Members' implementation plans and upcoming tenders. Therefore, we are improving our capability to support Public Transport authorities, operators and suppliers in their implementation of ITxPT. And in terms of the ITxPT specifications we are starting up new Working Groups to further develop the scope and content for the next release.
Which are going the most important events for ITxPT in 2018?
I would say our own events like the workshops we arrange for all Members are the most important ones. We are going to arrange three of them during 2018 and the first one will be organised in conjunction with IT-TRANS in Karlsruhe (Germany) in March 2018. We will also exhibit at IT-TRANS and invite to an open public session on the first day of the event. 
What do you wish to the ITxPT Members for 2018?
I wish all Members a prosperous year. Public Transport has a positive development due to environmental aspects, legislation, city congestion etc., which challenges individual transportation and contribute to an increased need for attractive and efficient public transport. There are many opportunities for all stakeholders.