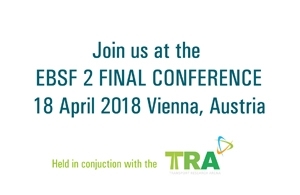 ITxPT is happy to invite you to the EBSF_2 Final Conference that will take place on 18 April in Vienna. Held in conjunction with the Transport Research Arena 2018 (16-19 April 2018), the conference will present the technological innovations tested within the project's test sites and give participants the opportunity to discuss the results with the demonstrations' working team (see the agenda here).During the conference, the Round Table 2 (planned for 14.00): 'Open your IT architecture! Use cases on interoperability and predictive maintenance' will be dedicated to the advantages of open IT architecture (compliant with the ITxPT specifications) for interoperability and maintenance of bus fleet. Key ITxPT PTA and PTO will be reporting their experience, including, Transdev and TfL, while Emmanuel de Verdalle, ITxPT Exploitation Manager, will be moderating the discussion.
The conference will take place at the Courtyard by Marriott Vienna Prater/Messe located on Trabrennstrasse 4, 1020 Vienna, Austria. The event is free of charge, but registration is mandatory. You can register here.
Moreover, some solutions and hardware developed within ESBF_2 will be showcased at the UITP stand (Stand D07 – Hall A) from 16 to 19 April, such as the ITxPT test bench with the IT modules in the EBSF_2 London demo. Also, applications for maintenance and intelligent garage from EBSF_2 Paris Area demo and a solution for predictive maintenance of buses based on innovative oil filters and sensors from EBSF_2 Ravenna demo will be presented.
ITxPT has been involved in the EBSF_2 project as the technical IT framework offering IT interoperability. ITxPT implementations have been showcased so far in several project demonstrations sites:
in London on interoperable AVMS solution (Advanced Vehicles Monitoring System) with Transport for London which has recently won the London Transport Award as the Most Innovative Transport Project (see more details here)
in Paris Area on Intelligent Garage with Transdev to aggregate and filter real-time technical data from heterogeneous vehicle fleet thanks to TiGR protocol
in Ravenna, San-Sebastian, Lyon and Barcelona as technical support on Intelligent Garage and Eco-Driving
If you would like to know more about the ITxPT Initiative, please contact Anders Selling at: anders.selling@itxpt.org.