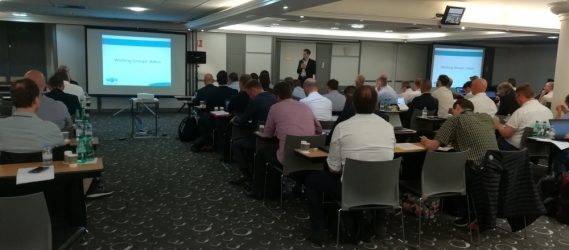 On 11 June, one day before the official opening of Transports Publics 2018, over 80 ITxPT Members from 13 countries participated in a dedicated Workshop in Paris.
All the participants were welcomed by Anders Selling, ITxPT Secretary General who shared the latest progress of the Association which was followed by two keynote speeches: on ElectriCity project delivered by Sture Hedin from Västtrafik & Jose Talamantes Pavon from Volvo and on the ITxPT implementation plan in RATP delivered by Natalia Ferrier.
During the first part of the Workshop ITxPT specially focused on the work managed within the ITxPT Working Groups, which are an essential part of the ITxPT organization. They are led by the ITxPT Exploitation Manager, Emmanuel de Verdalle and are open to all Strategic and Principal Members. Their role is to provide the forum and channel to contribute to and to influence the development of ITxPT. The current ITxPT Working Groups are as follows:
Active ITxPT Working Groups 2018
#5  FMS need collection
#6  Additional protocols (MQTT and others)
#7  Additional IP services
#8  Security
#9  Over the air (OTA)
#10  NeTEx / SIRI / Transmodel support group
#11  PT Trends to specification strategy
#12  Virtualization
#13  Responsibility Model for interoperability
More information about the ITxPT Working Groups is publicly available here.
In the second part of the Workshop, break-out sessions on the ITxPT Label, compliance testing and laboratory services were organized, during which the ITxPT Team shared how to develop the processes for labeling and how to best benefit from the ITxPT services. Also, the ITxPT specifications role in tendering processes and implementations was widely discussed and all the members had an opportunity to express their inquiries and comment on the subject. Thanks to this valuable feedback, ITxPT can develop actions aimed at improving support for its members and work on optimising the labeling process. A final report summarizing all the feedback collected during the Workshop will be distributed soon.
ITxPT is an Association that is open for any stakeholder from the public transport industry. The ITxPT specifications and guidelines are publicly available at the ITxPT Documentation Center; you can request public access here. Also, the ITxPT label is not exclusive to the members only – it can be acquired by anyone since also non-members can receive support from ITxPT.
Further advantages, including registration to the ITxPT Working Groups and participation in the Workshops are offered only to the members, but anyone can join the Association. If you wish to do so or you have any other questions, please contact us.
All the pictures from the ITxPT Workshop in Paris can be found here.