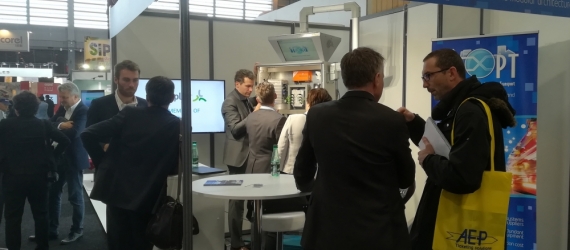 After the successful Workshop held on 11 June in Paris, involving over 80 participants, on 12-14 June ITxPT took part in Transports Publics 2018, The European Mobility Exhibition which is a biennial exhibition for all the key players in public transport and sustainable mobility from across Europe.
During the event, the ITxPT stand was often visited – many came to see the testbench and requested additional information on the ITxPT specifications as well as the scope of services and modules that are covered by them. Also, both ITxPT members and non-members shared the ideas on what should be included in the next ITxPT releases as well as discussed the role of ITxPT in ongoing and future tenders.
On Tuesday, 12 June Brigitte Thorin, Ministerial Delegate for Accessibility (Ministry of Ecological and Solidarity Transition – Ministry of Territorial Cohesion) accompanied by a delegation of representatives of disabled people's associations visited the ITxPT stand discuss the implementation of IT standards in public transport such as NeTEx Siri.
On Wednesday, 13 June Simon Reed, Head of Bus Systems and Technology at TfL, delivered a presentation about the EBSF_2 project and ITxPT in London, discussing "The introduction of standard IT architecture in London bus fleet, from project to implementation by TfL", which gathered numerous visitors interested in this relevant topic. Later that day, Anders Selling, ITxPT Secretary General and Emmanuel de Verdalle, Exploitation Manager at ITxPT were invited to speak at the RATP stand and present the ITxPT's scope of activities and its technical strategy.
ITxPT would like to thank all the visitors for their interest, inquiries and comments. If you have any questions or feedback that you would like to share with us, please contact us.