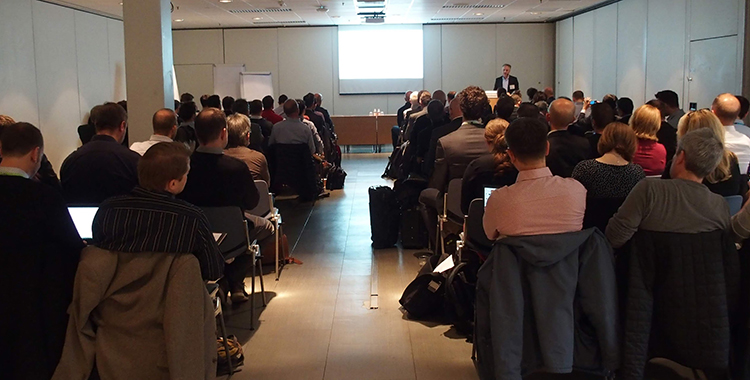 On 25 October, one day after the end of Persontrafik, around 80 ITxPT Members gathered in Stockholm to participate in a dedicated meeting in order to learn more and discuss the latest progress of ITxPT.
Due to some confusion between 'Working Groups' that are coordinated by ITxPT and 'Workshop' used as an official name for previous ITxPT Members gatherings, the event received a new name: The ITxPT Members Meeting. Apart from the name, there are no big changes in the event concept whatsoever and the ITxPT Members Meeting is going to be held more/less 3 times per year in conjunction with public transport-related international trade shows.
In the first part of the Meeting, ITxPT Team presented its latest activities, new members as well as events, communication and Documentation Center news. Then, the Members had an opportunity to listen to two keynote speeches: "PTA approach to ITxPT and upcoming tenders" delivered by Magnus Almkvist from Stockholms Lokaltrafik and "How ITxPT supports interoperability in autonomous vehicle fleets" delivered by Luc Texier from Bestmile.
Next, ITxPT Exploitation Manager – Emmanuel de Verdalle, together with some coordinators of the ITxPT Working Groups presented the status, objectives and deliverables of each working group. Moreover, ITxPT Laboratory Manager, Victor Dardenne spoke about the outcomes of the previous workshop which was followed by the presentation of the specification status done by Emmanuel de Verdalle.
In the second part of the ITxPT Members Meeting, break-out sessions were organized, during which the ITxPT Team gathered feedback from all the members on how to improve the development process of the ITxPT Specifications and reinforce the ITxPT technical support in context of ITxPT labeling, tenders as well as implementations. ITxPT would like to thank all the members for their engagement in the break-out sessions. A final report summarizing all the feedback collected during the ITxPT Members Meeting will be compiled soon.
ITxPT is an Association that is open for any stakeholder from the public transport industry. The ITxPT specifications and guidelines are publicly available at the ITxPT Documentation Center; you can request public access here. Also, the ITxPT label is not exclusive to the members only – it can be acquired by anyone since also non-members can receive support from ITxPT.
Further advantages, including registration to the ITxPT Working Groups and participation in the Workshops are offered only to the members, but anyone can join the Association. If you wish to do so or you have any other questions, please contact us.
All the materials from the ITxPT Members Meeting in Stockholm (agenda, presentations, pictures) can be found here.