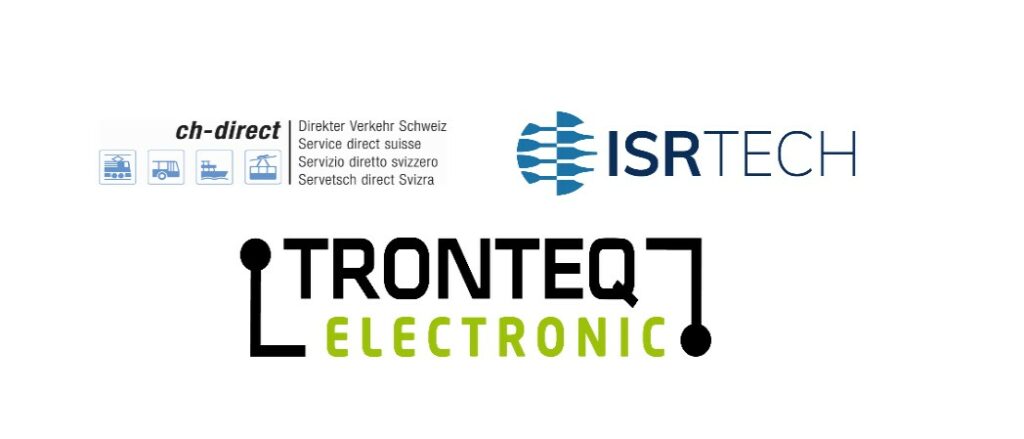 ITxPT is enthusiast to see its number of Members growing and to welcome new Principal Member (Tronteq), Associated Member (ISR Corp) and Partner Association (CH-direct)
ISR CORP
ISR Tech is an Israeli based company with offices in North America. With over 32 years of experience delivering state-of-the-art systems to public transit companies across the world, it is well recognized as a pioneer in the mapping and tracking industry. ISR Corp also delivers an efficient fleet management product with excellent support and service.
ISR Tech offers a full range of integrated technologies to public transit including CAD/AVL, Passenger Information Systems, Automatic Passenger Counting, Automatic Fare collection, LED, TFT and E-Paper displays, Stretch TFT displays embedded in bus glass structure, Solar powered signs, Bus shelters integrated with interactive displays, SIRI based stop arrival prediction engine, Yard management and special Electric Bus Management system.
ISR Corp is thrilled to join ITxPT because it will allow them to be surrounded by other companies dedicated to open standards in Public Transport. They will also integrate our standards in their family of products.
CH-Direct
The Alliance SwissPass (formerly ch-direct) is a Swiss national tariff organisation representing the interests of roughly 250 public transport companies.
With services to both travelers and the public transport industry, they are committed to further development of public transport and a customer-oriented progress in the Swiss tariff system and ticketing. The Alliance SwissPass offers products such as the general or half-fare ticket and is present throughout Switzerland. The Alliance is also responsible for the revenue and cost distribution of all participating transport companies.
The commission IT-systems, affiliated with the Alliance SwissPass, is involved in developing existing and future IT systems in respect with sales and distribution in Swiss public transport. It sets standards in the field of data exchange and ensures optimal functioning of interfaces, so that tickets can be managed centrally but sold decentrally.
The interoperability between IT systems and the technical standards of the IT architecture are becoming more and more important. The Alliance SwissPass's expectation on joining ITxPT is the exchange of knowledge in respect of the development of technical standards for interfaces in sales and distribution.
TRONTEQ

Founded in 2011, Tronteq is a German company specialized in onboard communication sytems for Public Transport vehicles. The main focus is on robust M12 Ethernet Switches which are developed and produced in Germany. The portfolio ranges from simple Plug&Play unmanaged Fast Ethernet Switches to intelligent Gigabit Ethernet Switches that can power other IP-participants like cameras, passenger counting systems or ticket validators through one cable (Power over Ethernet). The company is mainly active on the European market and has already successfully integrated the products in Middle East and Asian markets. The main focus is now to better understand the customers and their needs, as onboard networks are getting bigger and more complex.
TRONTEQ joins ITxPT to better understand the needs of Public Transport Authorities and Operators and therefore to develop and deliver fitting products. Further TRONTEQ intends to expand its international network and expand to new markets.