Meet the two newest ITxPT employees – Anastasia Founta and André Fougeront. Anastasia has, since she joined the ITxPT team in the fall of 2020, established herself as an invaluable asset for the ITxPT collaborative community. Within the association, her primary role is to manage EU projects and Requirements Committee activities.  Andre, employed at the end of 2020, will work together with Victor Dardenne to run and develop the Paris lab, the cloud lab, and participate in developing the ITxPT specification. 
Anastasia Founta
Anastasia is the kind of person who could carry out almost any assignment. She especially enjoys taking on new challenges in innovative projects with a positive social impact. ITxPT brings just that, combined with social interaction, collaboration, and knowledge exchange.
Background
Anastasia has over ten years of experience as a transport engineer and a master's degree in urban planning, environmental protection, and sustainable development. Her expertise focuses on traffic management, transport systems development and implementations, and sustainable urban mobility planning. 
International experience
She has worked in several different countries and multicultural environments before. Her experience includes working on the development of intelligent transport systems, as a scientific assistant at research institutes and on sustainable mobility planning and implementation in the framework of European projects, as a consultant to transport authorities. 
Different cultures and warm 
weather
Anastasia also values the opportunity to travel within the job and meet people from different cultures with various professional backgrounds. However, being from Greece, she prefers her base to be in a sunny warm place, where people like spending time outdoors.  
A force
In her spare time, she likes sports, traveling, dancing, and painting, although she modestly claims not to be good at the practice of art. Anastasia is truly a force to be reckoned with, and she brings structure, intelligence, and perseverance into her work to the benefit of the ITxPT collaborative community. 
André Fougeront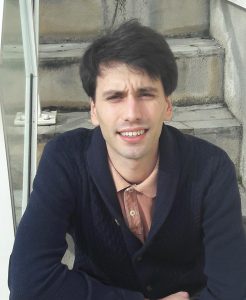 As a person, André is very helpful and likes to follow up on ideas, give advice and evaluate how to do things in general. He is excited about working in the international environment of ITxPT, and he has a firm belief in the technical aspects of ITxPT and the importance of the use of standards and best practices to set norms in the mobility industry.  
Background
After graduating from the prestigious French engineering school Telecom Bretagne, André worked for two years at the international aviation and defense giant Safran, where he, among other things, conducted vibration analysis on airplane engines.
Role at ITxPT
At ITxPT, he looks forward to developing and evaluating automated and manual test methods. He also looks forward to participating in the specification development and updates in collaboration with the ITxPT team and members. Working together with colleagues and members is an essential part of why he likes his role at ITxPT.  
Exciting future
He sees that ITxPT contributes a vital component for the mobility industry and that the impact will increase even more as the organization evolves. He is excited about being a part of that journey.  
Enjoys 
collaboration
On a personal level, André looks forward to the years to come in ITxPT and expects that there will be many exciting things to do. Most of all, he looks forward to the collaboration with the ITxPT team and the whole collaborative community.  
When he is not busy working, he keeps occupied with music, and he also likes to read the occasional book.